Henselite Tiger Pro Bowls
Henselite Tiger Pro bowls are a new addition to the Henselite range aimed, as its name suggests, at the professional player. It quickly established its reputation as a high quality professional level bowl when it was used by Alex Marshall and Paul Foster and at the 2010 World Indoor Championships.
Henselite Tiger Pro Bowls – click here to buy online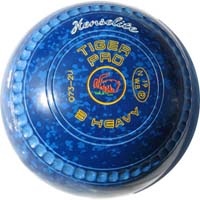 It is a narrow to mid-bias bowl, with a draw line somewhere in between that of the Henselite Tiger and the Henselite Tiger II. It has a predictable trajectory and good stability, and it plays well on all surfaces, fast or slow, indoors or outdoors – so although it is aimed at the pro, it will also appeal to the beginner or club player looking for a multi-purpose bowl that allows them to play a wide variety of shots with good reliability. The Tiger Pro has a contemporary design with an ergonomic profile and dimple grip that is slightly shallower grip than the Tiger, making the bowl easy to hold, especially in the wet, and to deliver more precisely.
Positioned as a pro-quality, top of the range bowl, it's no surprise that Henselite Tiger Pro bowls are a bit more expensive than other models. But the cost is easily offset by the versatility of this bowl. Since you can use it indoors or outdoors, wet or dry, and on all surfaces, you're unlikely to need another set of bowls. They are also backed by Henselite's 10 year guarantee against cracking, making these bowls look even better value.
Since Henselite Tiger Pro bowls are so beginner-friendly, they can also be used by younger players. Although it doesn't come in junior sizes, the smaller sizes 1 and 2 could be suitable for ages 12 and up.
Available in sizes 0 to 5, Heavyweight only.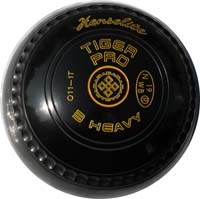 All sizes are available in Black, and sizes 2 to 5 are also available in Red, Green and Midnight (Speckled Blue). Galaxy Gold (black with yellow speckles) is due to be available summer 2011 and is available for pre-order.
How to Buy
The Henselite Tiger Pro bowl is available to buy from the Bowls World online shop in the sizes and colours indicated above. Price includes free postage to addresses in England, Wales and the Scottish Lowlands.
Looking After Your Henselite Tiger Pro Bowls
When you have a top of the range bowl you'll want to make sure it is well looked after, in order to get the best possible value from your purchase.
We recommend using a good quality bowls bag with adequate protection for your bowls during transit. Bowls World offer a good range of specialist bowls bags from top manufacturers.
If you want your Henselite bowls to feel at home, try the Henselite Darwin Bag or the Henselite Victoria Bag. Both are designed to carry 4 bowls as well as shoes and waterproofs but the Victoria bad is a little more compact overall.
Henselite Tiger Pro Bowls – click here to buy online