Drakes Pride Fineline Bowls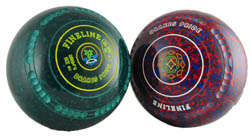 Bowls World are pleased to supply Drakes Pride Fineline Bowls from its online shop, delivering to the UK and to international destinations. Free postage to addresses in UK mainland.
Drakes Pride Fineline Bowls – click here to buy online
The newest addition to the Drakes Pride range, the reputation of Drakes Pride Fineline Bowls received an instant boost when they were used by Robert Weale to win Gold in the Mens Singles at the 2010 Commonwealth Games.
Its draw is somewhere between that of the Professional and the Advantage, making it a bowl most suited to the experienced player. It plays in a very similar way to the ever-popular Drakes Pride Professional, making it a good "crossover" bowl for existing Professional owners wanting to try a narrower draw bowl.
The Fineline features a "balanced arc sole shape" which provides good stability and a flatter finish to the jack. This results in a bowl that will hold its line all the way to the head. It also features Drakes Pride's innovative Forty Dimple grip.
Made by the only English bowls manufacturer, the Fineline is suitable for mid to fast UK playing surfaces, in all playing conditions. Its price is in the mid-range, perhaps reflecting that this is not a bowl aimed at beginners, but is most likely to appeal to the experienced club bowler. It is available is a wide range of colours and has 10 year guarantee against cracking
It is not available in junior sizes, but the smaller sizes size 00, 0, 1 or 2 would be suitable for 11 upwards depending on hand size.
Available in sizes 00 to 4, heavyweight only.
Available colours: Black, Red, Mid blue, Speckled Green, Speckled Blue/Blue, Speckled Black/Red, Speckled Blue/Yellow, Speckled Burgundy/Red, Multicoloured, Speckled Purple/Blue, Speckled Magenta/Red. Plus a choice of personal emblem.
Looking After Your Drakes Pride Fineline Bowls
What better way to look after your new Drakes Pride bowls than with a new Drakes Pride bowls bag to match?
The Drakes Pride Pro Midi Bag is a new bag from Drakes Pride, with modern, sporty good looks to complement the Fineline bowl perfectly. Ruggedly built from nylon, with special bowls compartment it has both handle and shoulder strap. It's a compact size bag, which also manages a shoe/wet gear sleeve. It is available in a choice of Black/Yellow or Black/Blue.
If you need something bigger, try the Drakes Pride Pro Maxi Bag instead, with similar construction, styling and colours to the Midi Bag, but with more space for shoes and waterproofs.
Drakes Pride Fineline Bowls – click here to buy online