Almark Bowls
There are 3 models of Almark bowl available in the UK, all of which are sold by Bowls World: the Arrow Bowl, the Almark Sterling Slimline and the Almark Sterling Gold.
The Almark bowl is a favourite choice for beginners and those on a budget, since they are made to Henselite's high standards, and with very similar playing qualities, but for a lot less.
All Almark Bowls models are available to order online from Bowls World, with free 48 hour postage to addresses in England, Wales and the Scottish Lowlands.
Almark Bowls – click here to buy online
About Almark Bowls
Almark bowls are actually manufactured by Henselite, the Australian bowls company, and named after Alistair and Mark, Bruce Hensel's two sons.
They were first made in the middle 80's when a factory was opened in Cumbernauld UK, to prevent the bowls having to be shipped from Australia. This was closed 10 years ago, and all production taken back to Australia. But Almark bowls remain a popular choice with UK players.
So what are the playing characteristics of each of the Almark bowl models?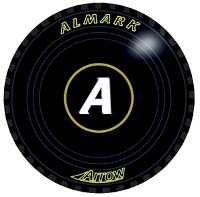 Almark Arrow Bowls
The Almark Arrow is a new bowl from Almark, which has been specially designed for indoor and fast paced outdoor greens. It has the narrowest draw line of all the Almark bowls (although still wider than its predecessor the Edge) and it has less hook at the finish. This allows the player to attempt a wider variety of shots on faster greens with confidence. They can be used by all level of bowlers and are well suited to indoors play.
Available with or without grip, in Black, Red or Green, and sizes heavyweight only, 00 to 5.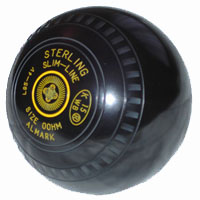 Almark Sterling Slimline Bowls
The Sterling Slimline has, as you'd expect, a slimmer shape than usual, which makes it a little lighter than a heavyweight bowl. In addition, it has a unique grip, consisting of deep, square shaped dimples. This combination of slimmer shape, reduced weight, and improved grip all make this a bowl that is exceptionally easy and comfortable to hold.
It has a slightly wider draw than the Arrow, but narrower than the Sterling Gold, and with a straighter finish. Like the Arrow, it is recommended for all indoor surfaces, and faster outdoor greens. Because it lies between heavyweight and medium, and because of its medium draw, it's a good choice for a bowler who likes to stick to the same set of bowls for all conditions.
Available in sizes 00 to 4 and in one weight, Medium/Heavy, with grip. Choose between Black, Red, Blue, Green or Burgundy.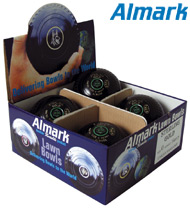 Almark Sterling Gold Bowls
The Almark Sterling Gold is has the widest draw of the Almark range, and has the same new square grip as the Sterling Slimline to aid control. It is more suited to outdoor surfaces, and slower paced indoor surfaces. It is also used for Short Mat bowls. It can be used by all levels of players wanting a wider draw and/or a slower bowl.
Available in sizes 00 to 5 (no size 00 medium), in either Medium or Heavyweight, with grip. Black only.
Almark Bowls – click here to buy online